Meet me at the Inn.
In the heart of Hamilton, NY
A centerpiece of Hamilton, NY, with a strong connection to Colgate University, Colgate Inn brings a unique combination of historic tradition and modern hospitality to guests. Featuring 40 thoughtfully designed rooms and suites, a popular onsite restaurant, and an array of event spaces and services, Colgate Inn is the go-to destination for those seeking an unforgettable Hamilton experience.
Since 1925, Colgate Inn has been a quintessential fixture in the university town of Hamilton, New York. With its own history tightly intertwined with that of Colgate University, the Inn continues to leave its mark on both students and the community.
Enjoy American cuisine in a comfortable European-style setting at The Tavern, serving breakfast, lunch, and dinner with New York's finest and freshest ingredients.
Leave a lasting impression on your guests at Hamilton's most sought-after venue, offering 3,100 square feet of elegantly appointed meeting space, enticing catering options, a convenient, central location, and a variety of event services and amenities.
In the Middle of All Things Hamilton
When it comes to hotels in Hamilton, NY, you won't find any place more convenient than Colgate Inn.
Steps from Colgate University
Our historic inn puts you just steps away from Colgate University's gorgeous campus. Go Raiders!
Eat & Drink Onsite
A favorite among guests and locals alike, The Tavern offers tasty American cuisine right onsite.
"We recently attended a wedding reception at this property, and from the time of check in until check out, our stay was amazing! Our room was immaculate and so comfortable. The food at the reception was delicious! Kendra and her team should be commended on their hard work and dedication to this property. I cannot wait to stay again!"
– Pattyw322
"Always a wonderful stay. The staff is so friendly. We stayed in a suite this time, which had plenty of room for ourselves and our teenage son. The restaurant is also very accommodating. Our older son is a freshman at Colgate and we brought a cake up for his birthday. They made his birthday dinner special."
– Kathy T.
"I've stayed at the Colgate Inn many times, and it just keeps getting better. First, everyone is incredibly friendly and helpful. Second, the rooms have been substantially upgraded in the last year or so, and I can't tell you how comfortable they are… The warm, wood-paneled restaurant with a huge fireplace is great, and the bar at one end is a perfect place to meet up with friends or colleagues. Finally, the location can't be beaten."
- Lebkuchen1027
"It might just be because every time I go to Colgate, I get to see my daughter who is studying there, but I do love this hotel! The rooms are very well appointed, and the beds are super comfy. The restaurant is a good spot for a nice dinner, and the servers are excellent. Convenient parking and great location."
– Sarah M.
"Lovely remodeled historic inn. It was originally called the Park House (my great-great-grandfather managed from 1872 to 1881). Lovely rooms, great service, and the food was especially good. We had their cheese platter made with local products two nights in a row. Excellent wine selection, too!"
– evanses5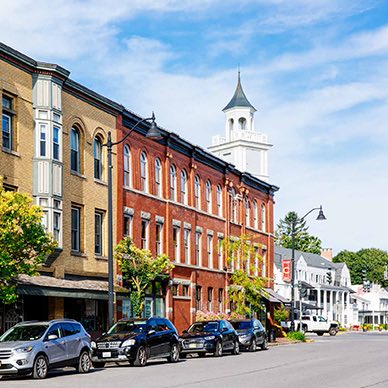 A home to many since the mid-1700s, and the home of Colgate University since 1819, Hamilton, NY, offers an abundance of historic appeal in an idyllic, dynamic setting.